Here's what you get each month with 24/7 access!
The main purpose of The CIRCLE is to support, guide, and push you as you continually grow and sustain your Outdoor Classroom by providing the tools to help you set the right goals, then actually follow through on achieving those goals with the support of our community.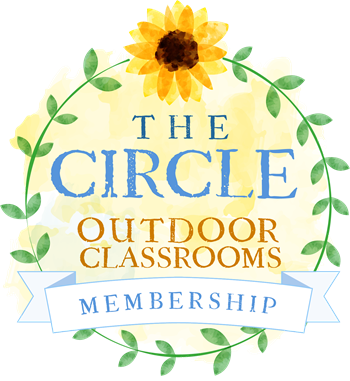 Guidance & Support from  Victoria Hackett, M.Ed.
Connect with Victoria and our international community of educators in our two LIVE Calls, Office Hours, and Private Facebook Community. Enjoy our Weekly CIRCLE News delivered to your inbox every Monday so you know exactly what is going on and where to focus your energy.
Begin your Journey with the Member Roadmap
Our signature Membership Roadmap is the most practical and comprehensive program to help you plan, build and create a successful outdoor classroom. Build and design your own program with our suggested workshops and master classes.
Get Started with our Bootcamp
Access our Outdoor Teaching Bootcamp and learn the 5 Phases of Teaching Outdoors. Use our Assessment tools as a guide. No more guessing or trying to do everything all at once, or not knowing where to begin.
Interact & Learn with Guest Experts
Expand the learning and deepen the conversation with our featured Podcast guests. Ask questions directly, go behind-the-scenes and enjoy the incredible Outdoor Classroom Talks & Photo Tours.
Connect & Collaborate LIVE
A thriving community of educators is the heart of The CIRCLE. Our monthly Teaching & Learning Round Table & Q&A/Educator Lesson Exchange  is the place to get feedback, gain support or inspiration or simply get to know other like-minded educators who have a passion for teaching outdoors. No more "going it alone" and feeling isolated while troubleshooting.
Immediate Access to our Full Training Archive
We have a huge Nature-Based Resource Library for you to dive straight into as soon as you join, from 40+ one-hour Nature-Based Workshops, to exclusive Master Classes that are deep dives on a range of specific topics. Professional Development Participation Certificates are included.
Dig Deeper with our Member Missions
Our Monthly Membership Missions are optional and offer members a chance to dig deeper gain a renewed inspiration for outdoor teaching. Missions are playful. Examples include: Choose a Word of the Year, Make a Nature-Based Literacy Bag, and Create a Curriculum Calendar inspired by Nature-Based Books.
Become an Ambassador of Joy for Children
Enjoy a captive audience of children and witness the transformation your outdoor teaching has on learning. No more struggling to grow your Outdoor Classroom, cultivating a nature-based curriculum, or getting your children's attention.
…All of this and much more ONLY inside The CIRCLE