Become a Member Today!
Teach Outdoors & Become an
Ambassador Of Joy For Children!
Make Learning Outdoors Plan A
Did you know Outdoor Classrooms improve children's emotional, intellectual, and behavioral development while helping foster the development of creativity, problem-solving, independence, and confidence?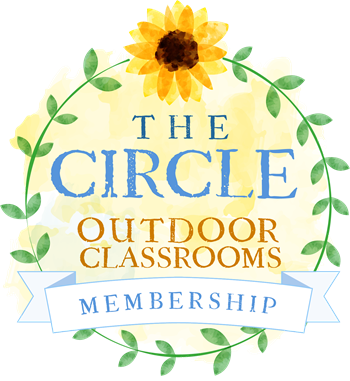 Playful learning outdoors is not only possible in your outdoor classroom, it's necessary.
Overwhelm, fear, and a lack of time can often make achieving any outdoor classroom vision into reality more trouble than it's worth.
"We have nowhere to do it."
"We don't have the resources."
"I feel like I'm not allowed to."
Which leads to missing massive learning opportunities in outdoor spaces every day!
Nature is a dynamic, flexible, versatile and magical place where children of all ages can choose, create, change and flourish.
Join The CIRCLE Today!
The CIRCLE
is a leading training community for educators and parents interested in cultivating outdoor classrooms and creating nature-based curricula.
It's a membership for support, collaboration, education, AND community!
And it's packed with in-depth, practical training and resources for all aspects of planning, running, and growing a sustainable Outdoor Classroom. PLUS the community support you need to ensure your Teaching Gardens achieve their full potential.
Here's what you get each month with 24/7 access!
The main purpose of The CIRCLE is to support, guide, and push you as you continually grow and sustain your Outdoor Classroom by providing the tools to help you set the right goals, then actually follow through on achieving those goals with the support of our community.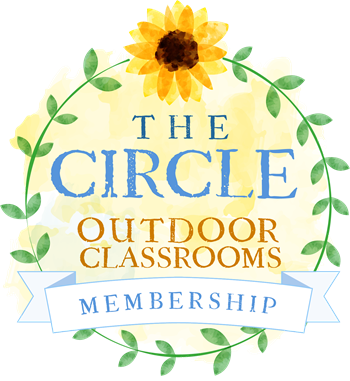 Guidance & Support from  Victoria Hackett, M.Ed.
Connect with Victoria and our international community of educators in our two LIVE Calls, Office Hours, and Private Facebook Community. Enjoy our Weekly CIRCLE News delivered to your inbox every Monday so you know exactly what is going on and where to focus your energy.
Begin your Journey with the Member Roadmap
Our signature Membership Roadmap is the most practical and comprehensive program to help you plan, build and create a successful outdoor classroom. Build and design your own program with our suggested workshops and master classes.
Get Started with our Bootcamp
Access our Outdoor Teaching Bootcamp and learn the 5 Phases of Teaching Outdoors. Use our Assessment tools as a guide. No more guessing or trying to do everything all at once, or not knowing where to begin.
Interact & Learn with Guest Experts
Expand the learning and deepen the conversation with our featured Podcast guests. Ask questions directly, go behind-the-scenes and enjoy the incredible Outdoor Classroom Talks & Photo Tours.
Connect & Collaborate LIVE
A thriving community of educators is the heart of The CIRCLE. Our monthly Teaching & Learning Round Table & Q&A/Educator Lesson Exchange  is the place to get feedback, gain support or inspiration or simply get to know other like-minded educators who have a passion for teaching outdoors. No more "going it alone" and feeling isolated while troubleshooting.
Immediate Access to our Full Training Archive
We have a huge Nature-Based Resource Library for you to dive straight into as soon as you join, from 40+ one-hour Nature-Based Workshops, to exclusive Master Classes that are deep dives on a range of specific topics. Professional Development Participation Certificates are included.
Dig Deeper with our Member Missions
Our Monthly Membership Missions are optional and offer members a chance to dig deeper gain a renewed inspiration for outdoor teaching. Missions are playful. Examples include: Choose a Word of the Year, Make a Nature-Based Literacy Bag, and Create a Curriculum Calendar inspired by Nature-Based Books.
Become an Ambassador of Joy for Children
Enjoy a captive audience of children and witness the transformation your outdoor teaching has on learning. No more struggling to grow your Outdoor Classroom, cultivating a nature-based curriculum, or getting your children's attention.
…All of this and much more ONLY inside The CIRCLE
What Sets The CIRCLE Membership Apart?
It's the first of its kind with a combination of community, collaboration, and implementation tools that lead to the mastery of outdoor teaching.
We know everyone is starting this Outdoor Classroom journey from different places. Whether you're just starting out or have taught outdoors for years, there's a place for you in The CIRCLE: Our Membership Community
Not Sure If The CIRCLE Membership Is For You?
The CIRCLE Membership is NOT for everyone, and truth be told we'd prefer to help you figure out if it's not right for you BEFORE you join rather than waste your time. So, let's cut to the chase…
Who's The CIRCLE Membership For?
Educators who want to create an outdoor classroom or have an 
existing outdoor classroom
 and want to 
better leverage their time outdoors and knowledge about nature-based curricula
, whilst helping more children.
Existing nature-based program owners who want to improve their growth and outdoor management and take their program to the next level
Educators who haven't built a nature-based program before but who are looking to join the movement and are willing to put time and energy into making their nature-based program dreams a reality.
Action takers who aren't just going to watch some training videos and never implement. We provide the training and resources, but you still need to do the work!
Who's The CIRCLE Membership NOT For?
Educators looking for a quick solution – if you think a membership site is going to make you a natural teacher overnight, we're not the right choice for you!
Idea chasers – if you're constantly chasing the next idea and never getting anything off the ground, this isn't a fit for you. Creating an Outdoor Classroom takes commitment and focus.
Anyone looking for a quick fix or not willing to dedicate time to teaching outdoors. Outdoor Classrooms take time and effort to create and manage.
Educators who are looking for a done-for-you solution. I know what I teach works (because I'm doing it myself) but I can't guarantee specific results from following my advice. No one can make that promise!
It might seem strange, me trying to talk you OUT of becoming a member – but truly if The CIRCLE is not the right fit then neither of us benefit. I have a vested interest in your success (you won't stick around long if I'm not helping, right?) – and that all starts by making sure The CIRCLE is right for you before you join.
Real Educators, Real Outdoor Classrooms, Real Success!
Creating an outdoor classroom is an organic process & a fun one
"The CIRCLE has helped me realize that creating an outdoor classroom is an organic process and a fun one!  And, even though there's always more to do, it's important to acknowledge and celebrate the baby steps!"
– Laura (Texas)
The Montessori Tree
Wow…a treasure-trove of great ideas! I've learned so much
"Wow…a treasure-trove of great ideas! I've learned so much from this membership program and love adding more nature-based activities to my Outdoor Classroom every day! Victoria is a great instructor and I highly recommend this membership for all educators!!!"
– Julie (Massachusetts)
Kings Kids Daycare & Nature Preschool
I loved the extension activity ideas. This was so helpful!
"I just watched the Three Sisters Garden workshop because I am growing our first 3 Sisters Garden. I loved the extension activity ideas. This was so helpful! I hadn't even thought about the social studies and nutrition/cooking route you took with it and absolutely can't wait to incorporate many of these ideas.."
– Michelle (Virginia)
Park 'n Play Backyard Classroom

Frequently Asked Questions
Is The CIRCLE Membership Community Right For Me?
Are there any prerequisites for joining The CIRCLE?
The CIRCLE membership community is designed to meet you where you are, even if you haven't started your outdoor classroom yet. Our Membership Roadmap begins with our Outdoor Teaching Bootcamp which introduces the 5 Phases of Teaching Outdoors. The Bootcamp also includes many of our assessment tools which act as a guide in knowing exactly what outdoor teaching phase you'll be starting in. The CIRCLE has no beginning and no end; therefore, as educators, we will be constantly evolving within each of the Outdoor Teaching phases.
I'm at square one with my outdoor classroom, is The CIRCLE right for me?
Absolutely – The CIRCLE covers every stage of planning, creating, and growing your Outdoor Classroom – from the very start where you just have a "seed" of an idea and nothing more. In fact, now is the perfect time for you to join The CIRCLE; as not only do we have trainings that will take you through every step, but you'll also be able to get support and advice from within the community too, to help you through your journey.
I already have an outdoor classroom that is doing well, what can The CIRCLE do for me?
Assuming you want to keep growing your Outdoor Classroom then The CIRCLE can help you with fine-tuning your 5 Phases for Teaching Outdoors: Infrastructure, Get Outdoors, Teaching & Learning Outdoors, Weather, and Sustainability; as well as supporting you with working towards your future goals. This is certainly not a "beginner only" community – far from it! We've helped educators from all over the world grow their Teaching Gardens, so there's plenty of expertise to offer that you're sure to benefit from in your continued growth. Plus it's more fun to do this work in a community of like-minded educators!
Is all the content available straight away or is it time-released?
BOTH! You get access to everything already inside The CIRCLE straight away! No waiting for content to be released to you, just jump in and start making use of the Outdoor Teaching Bootcamp, entire nature-based workshop and master class library straight away. Each month, you will receive a NEW Member Mission and Links to two LIVE Sessions. All LIVE Sessions are recorded.
When does the program begin? Is there a schedule?
Enrollment for The CIRCLE membership community is open. You will receive your enrollment confirmation within 30 minutes. The dates and links for the monthly LIVE Sessions are sent to you in our weekly CIRCLE News. A schedule is available in the membership portal. Otherwise, you have full access to the membership 24/7.
I'm really busy. How much time does this program take?
You will get out of this membership what you put into it. You do you. Some days you may have an hour, some days you may have 10 minutes, and others you may have no time at all. You might have a crazy-busy day and not get to any of it. Nobody's keeping track of how much time you're in the private portal. If you are pressed for time, my recommendation is to show up for the scheduled LIVE sessions when you can, check in with the private Facebook community, and set goals for the rest. The best part of the membership is the community and as long as you're a member, you have access to all our resources!
Is there a penalty for canceling?
You are free to cancel your membership at any time, and you will retain access to the membership until your current payment period is complete.
While there is no financial penalty for canceling, we do not provide refunds nor do we prorate any uncompleted time in the program. You must cancel at least 3 business days before your auto payment is charged, or you will be charged for an additional month of the program. Please note: Once you cancel your membership, the price of the membership may increase over time. You will not be able to rejoin the program at your previous Member Rate.
What if I can't make the live sessions?
While we encourage you to attend the LIVE sessions when your schedule allows, live attendance is not a requirement for success in our membership. Each live session will be recorded, and the recordings will be posted in the course portal by 5 pm the following business day.